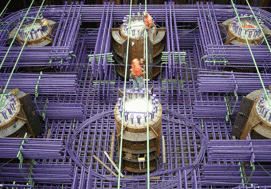 "MCM Construction has built some of the most amazing bridges in California from North to South and from start to finish.
Massive multi-level interchanges that make one dizzy just to look at and beautiful scenic bridges that span 100 foot deep gorges that are wonderful to look at and admire."
-Steve Cress, APE News
Jim Carter
President and Founding Partner
Jim Carter is President and founding partner of MCM Construction and serves as the overseeing officer of all field operations. Jim has more than 45 years of construction experience in the California highway construction marketplace. He is credited with revolutionizing many construction methods that have been adopted industry-wide which have led to a safer and more efficient bridge construction workplace.
Following a major earthquake in the San Francisco Bay Area in 1989, Jim and his crew were recognized for a valiant life-saving effort. After three days of digging in collapsed concrete, Jim and his team came upon Buck Helm, one of the last victims found miraculously alive. Jim and his crew pulled him to safety. Years later, MCM Construction was awarded the contract to construct and replace the "Nimitz / Cypress A" freeway damaged in the earthquake and Jim Carter was recognized and honored as a hero.
Harry D. McGovern
Vice President & General Manager
Harry McGovern is Vice President and General Manager of MCM Construction. In this post Harry oversees the operations of all of MCM Construction's engineers and managers. He also oversees the progress and execution of all projects. A graduate of North Dakota State University with a B.S. in Civil Engineering, he is a Registered Professional Civil Engineer in California.
Harry has spent 37 years in the highway bridge construction industry, having begun his career as an engineer with the State of California, Department of Transportation (Caltrans) where he worked for five years. Harry joined MCM Construction in 1981 and now oversees the day-to-day operations of the company. Harry's unsurpassed business acumen is among the primary factors that drives MCM Construction's extraordinary success.
James Coppini
Operations Manager
Jim Coppini, Operations Manager of MCM Construction. Jim joined MCM Construction in 1978 after attending California State University, Chico, where he majored in Construction Management. He began his career as a project engineer and worked through the ranks to job superintendent and ultimately project manager on one of the most challenging projects in the company's history: the $76 million 710-105 Interchange, commissioned in Long Beach, California.  This was, at the time, the largest contract in Caltrans history.
Jim oversees all field operations in the Southern California region and supervises all field personnel throughout California.  Our current contracts in Southern California alone represent more than $388 million in business.
.